Coffee is one of the most popular beverages in the world, and it's no wonder. The rich, aromatic flavor and energizing caffeine content make coffee a morning staple for millions of people. But where does this beloved beverage come from?

The coffee plant is native to Ethiopia, and coffee beans are actually the seeds of coffee cherries. Coffee cherries grow on bushes and are typically harvested by hand. Once the cherries are ripe, they are picked and sorted according to quality.

The best beans will be used to produce specialty coffees, while lower-quality beans will be used for mass-produced coffees. There are two main methods of harvesting coffee cherries: selective picking and stripping. Selective picking is a labor-intensive process in which only the ripe cherries are hand-picked from the bush.

This method results in a higher quality product, but it is also more expensive. Stripping, on the other hand, involves using a machine to strip all of the cherries from the bush at once, regardless of whether they are ripe or not. This method is less expensive but produces a lower quality product.
There are many different ways to harvest coffee, but the two most common methods are strip picking and selective picking. Strip picking is when all of the coffee cherries are harvested at once, regardless of whether they are ripe or not. This method is typically used when mechanized harvesting is being employed.

It is a less labor-intensive way to harvest, but can result in lower quality coffee since unripe cherries can end up mixed in with the ripe ones. Selective picking is when only the ripe coffee cherries are harvested. This method requires more labor since it must be done by hand, but it results in higher quality coffee since only the ripe fruit is picked.
How Millions Of Pounds Of Coffee Are Processed At Hawaiian Coffee Farms | Big Business
Coffee Harvesting Machine
Coffee harvesting machines are used to harvest coffee cherries. These machines are typically used in large coffee plantations and can greatly speed up the process of picking coffee cherries. There are a few different types of coffee harvesting machines, each with their own advantages and disadvantages.

One type of coffee harvesting machine is the stripper harvester. This machine strips all of the coffee cherries off of the branch at once, which can save time compared to picking them by hand. However, this type of machine can also damage the branches, which can reduce future harvests.

Additionally, stripper harvesters only work well on relatively flat terrain. Another type of coffee harvesting machine is the shaker harvester. This machine uses a vibrating platform to shake the branches, causing the ripe coffee cherries to fall off into a collection bin.

Shaker harvesters are less likely to damage branches than stripper harvesters, but they may not be as effective at removing all of the ripe cherries from the plant. Additionally, shakerharvesting machines require more maintenance than other typesof machines and may not be suitable for use in rugged terrain.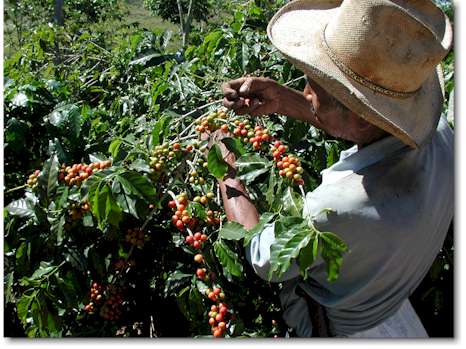 Credit: www.coffeeresearch.org
What are the Three Main Methods of Harvesting Coffee?
The three main methods of harvesting coffee are the selective, semi-selective, and strip picking method. Selective picking is the most common and efficient method used today. It involves workers going through the coffee trees and hand-picking only the ripe cherries.

This ensures that only the best quality beans are harvested and also allows for a more gentle process that doesn't damage the unripe fruit or the tree itself. Semi-selective picking is a mix of hand-picking and machine harvesting. In this method, workers will go through the trees and pick out the ripe cherries by hand while also using a machine to shake branches and release any fruit that is ready to be picked.

This can be less precise than selective picking but can still result in high quality beans being collected. Strip picking is the final main method and it involves stripping all of the cherries off of a tree at once, regardless of ripeness. This can damage unripe fruit and lead to lower quality beans overall but it is much faster than either selective or semi-selective picking.
How Do You Harvest Coffee Beans from the Plant?
Harvesting coffee beans is a process that involves picking the coffee berries off of the coffee plant. The coffee plant produces these berries in clusters, and each berry contains two seeds, which are what we know as coffee beans. Once the berries are picked, they are hulled in order to remove the outer layer of the fruit, revealing the bean inside.

The beans are then sorted and graded before being sent off to be roasted and brewed. There are typically two harvesting seasons for coffee – the main harvest and the second (or fly) crop. The main harvest usually takes place between October and February, while the second crop is typically harvested between April and May.

Some regions will also have a third, smaller harvest known as the rato crop, which happens between June and August. The method used to pick the coffee berries will depend on the type of plant they are growing on – either bushes or trees. For bushes, workers will use small hand-held rakes to comb through the branches and collect any ripe berries into their baskets.

For trees, ladders may be necessary in order to reach all of the ripe fruit. Once collected, the berries are brought back to be hulled and processed. As you can see, there is quite a bit that goes into harvesting coffee beans!

It is a lengthy process that requires care and attention at every step in order to produce high quality beans that will make delicious cup of joe!
What are the Two Methods of Processing Coffee?
The two methods of processing coffee are the dry method and the wet method. The dry method is the oldest and most traditional way to process coffee. In this method, the coffee cherries are dried in the sun or in mechanical driers until they reach a moisture content of around 10-12%.

Once they are dried, the coffee beans are removed from the cherries and sorted according to size and quality. The wet method was developed in Ethiopia in the 1950s as a way to improve coffee quality. In this method, the coffee cherries are pulped (the flesh is removed) and then fermented in tanks for up to 48 hours.

This breaks down some of the sugars in the cherry, which results in a sweeter cup of coffee. After fermentation, the beans are washed and then dried either in the sun or in mechanical driers.
How Many Methods of Coffee Processing are There?
There are four main methods of processing coffee: dry process, wet process, semi-dry process, and pulping. Dry Process: The dried coffee cherries are hulled and the green coffee beans are sorted by size and quality. This is the oldest method of processing coffee and still used today in some parts of Ethiopia.

Wet Process: The coffee cherries are picked and then immediately soaked in water for 12-24 hours. This makes it easier to remove the fruit from the bean which results in a cleaner tasting cup of coffee. Wet processed coffees are typically brighter and have more acidity than dry processed coffees.

Semi-dry Process: The coffee cherries are allowed to ferment for 12-36 hours before they're washed and dried like in the dry process method. This fermentation step gives the beans more body and sweetness. Pulping: In this method, only the outer layer of the fruit is removed before it's fermented or dried like in the other methods.

Pulped natural coffees tend to have a rounder mouthfeel with less acidity than fully washed coffees.
Conclusion
Coffee harvesting is the process of removing coffee cherries from the coffee tree. There are two main methods of coffee harvesting: stripping and picking. Stripping is the most common method of coffee harvesting.

In this method, all of the cherries are removed from the branch in one go. This can be done by hand or with a machine. Picking is a more labor-intensive method, as each cherry is picked individually from the branch.

The type of harvest will depend on a number of factors, including the size of the farm, the variety of coffee being grown, and the time of year. Coffee farmers must carefully consider these factors to ensure that their crop is harvested correctly and at its peak ripeness.

{ "@context": "https://schema.org", "@type": "FAQPage", "mainEntity":[{"@type": "Question", "name": "What are the Three Main Methods of Harvesting Coffee? ", "acceptedAnswer": { "@type": "Answer", "text": " The three main methods of harvesting coffee are the selective, semi-selective, and strip picking method. Selective picking is the most common and efficient method used today. It involves workers going through the coffee trees and hand-picking only the ripe cherries. This ensures that only the best quality beans are harvested and also allows for a more gentle process that doesn't damage the unripe fruit or the tree itself. Semi-selective picking is a mix of hand-picking and machine harvesting. In this method, workers will go through the trees and pick out the ripe cherries by hand while also using a machine to shake branches and release any fruit that is ready to be picked. This can be less precise than selective picking but can still result in high quality beans being collected. Strip picking is the final main method and it involves stripping all of the cherries off of a tree at once, regardless of ripeness. This can damage unripe fruit and lead to lower quality beans overall but it is much faster than either selective or semi-selective picking." } } ,{"@type": "Question", "name": "How Do You Harvest Coffee Beans from the Plant? ", "acceptedAnswer": { "@type": "Answer", "text": " Harvesting coffee beans is a process that involves picking the coffee berries off of the coffee plant. The coffee plant produces these berries in clusters, and each berry contains two seeds, which are what we know as coffee beans. Once the berries are picked, they are hulled in order to remove the outer layer of the fruit, revealing the bean inside. The beans are then sorted and graded before being sent off to be roasted and brewed. There are typically two harvesting seasons for coffee – the main harvest and the second (or fly) crop. The main harvest usually takes place between October and February, while the second crop is typically harvested between April and May. Some regions will also have a third, smaller harvest known as the rato crop, which happens between June and August. The method used to pick the coffee berries will depend on the type of plant they are growing on – either bushes or trees. For bushes, workers will use small hand-held rakes to comb through the branches and collect any ripe berries into their baskets. For trees, ladders may be necessary in order to reach all of the ripe fruit. Once collected, the berries are brought back to be hulled and processed. As you can see, there is quite a bit that goes into harvesting coffee beans! It is a lengthy process that requires care and attention at every step in order to produce high quality beans that will make delicious cup of joe!" } } ,{"@type": "Question", "name": "What are the Two Methods of Processing Coffee? ", "acceptedAnswer": { "@type": "Answer", "text": " The two methods of processing coffee are the dry method and the wet method. The dry method is the oldest and most traditional way to process coffee. In this method, the coffee cherries are dried in the sun or in mechanical driers until they reach a moisture content of around 10-12%. Once they are dried, the coffee beans are removed from the cherries and sorted according to size and quality. The wet method was developed in Ethiopia in the 1950s as a way to improve coffee quality. In this method, the coffee cherries are pulped (the flesh is removed) and then fermented in tanks for up to 48 hours. This breaks down some of the sugars in the cherry, which results in a sweeter cup of coffee. After fermentation, the beans are washed and then dried either in the sun or in mechanical driers." } } ,{"@type": "Question", "name": "How Many Methods of Coffee Processing are There? ", "acceptedAnswer": { "@type": "Answer", "text": " There are four main methods of processing coffee: dry process, wet process, semi-dry process, and pulping. Dry Process: The dried coffee cherries are hulled and the green coffee beans are sorted by size and quality. This is the oldest method of processing coffee and still used today in some parts of Ethiopia. Wet Process: The coffee cherries are picked and then immediately soaked in water for 12-24 hours. This makes it easier to remove the fruit from the bean which results in a cleaner tasting cup of coffee. Wet processed coffees are typically brighter and have more acidity than dry processed coffees. Semi-dry Process: The coffee cherries are allowed to ferment for 12-36 hours before they're washed and dried like in the dry process method. This fermentation step gives the beans more body and sweetness. Pulping: In this method, only the outer layer of the fruit is removed before it's fermented or dried like in the other methods. Pulped natural coffees tend to have a rounder mouthfeel with less acidity than fully washed coffees." } } ] }
Hey guys! You can call me Paul E Nicholson.
I spend most of my leisure time Coffee and tea
Let's share some of them one by one in this blog For Coffee and tea